The new 2-in-1 tool for aluminum trusses
Vertitruss PinClaw, the ultimate tool for anyone working with aluminum trusses.
The PinClaw is a 2-in-1 tool that combines the power of a hammer and a lever in one. Their unique feature is gentle on aluminum trusses, while the slim and ergonomic design ensures comfortable use and an easy grip. The PinClaw is also much quieter than conventional hammers when dismantling trusses, which is perfect for events and trade fairs that go late into the night.
PinClaw you acquire a high-quality and reliable tool that has proven itself worldwide with professionals in the event and trade fair industry. With the PinClaw you work more efficiently and safely and you can assemble or disassemble your trusses faster and more effectively.
So why settle for less?
Upgrade your tool collection today with the PinClaw of Vertitruss come and experience the difference for yourself.
"I have never dismantled trusses so relaxed"
The PinClaw is the multi-tool in its class.
With it, bolts can be driven in as usual and loosened again with particular ease.
Leverage instead of brute force
Remove bolts from your trusses with up to 12,5x leverage. This way your bolts can be loosened faster, easier and more gently for your trusses.
Stuck bolts become an annoying source of noise? Due to the precise application of force PinClaw you protect your ears and the ears of others and, by the way, also your trusses.
On one side a hammer, on the other a lever for your bolts
Also loosens stubborn bolts from your truss
The perfect weight for swinging hammer blows and great grip comfort
Sold over 1000 times worldwide
Frequently asked questions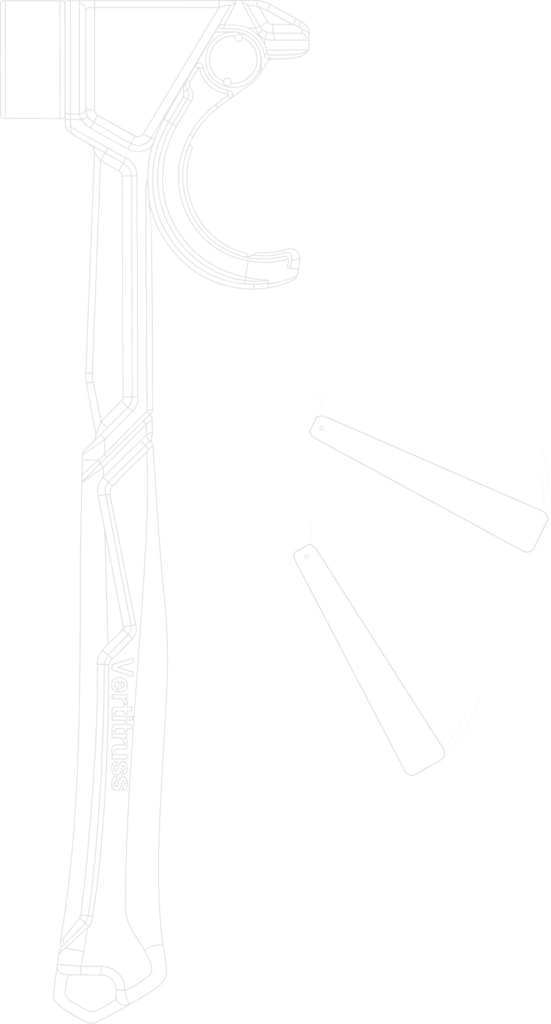 The story behind the PinClaw
About Vertitruss and the PinClaw
When the COVID-19 pandemic started, we watched Vertitruss an opportunity to develop a new tool that would help our customers work more efficiently and safely. Our team set out to invent a tool that combines the power of a hammer and a lever in one, while being quieter and gentler on aluminum trusses.
We not only placed great value on the functionality, but also on the design, the result was the "PinClaw", a sleek and ergonomic tool that is not only functional but also visually appealing.
The PinClaw has a hammer head on one end and a lever on the other, allowing the user to switch between hammering and levering bolts quickly and easily. The ergonomic design ensures comfortable use and an easy grip. It is specially designed to protect aluminum trusses and is therefore ideal for use at events, trade fairs or in everyday touring.
We put all our resources into developing the PinClaw plugged in so that after 2 years of hard work the tool was finally ready for the market. The PinClaw quickly became a huge success and was embraced by professionals in the events and exhibitions industry around the world.
Our patented invention has been recognized as one of the most innovative and useful tools in the industry and has helped us establish ourselves as a major player in the market. We are proud to have created a tool that not only helps our customers to work more time-efficiently and quietly, but also stands out from the rest with an attractive design.

These and many other experiences awaken in us the desire to continue to offer our customers high-quality and innovative products coupled with excellent customer service.

How TikTok brought us worldwide attention and cheap copies
As our video the PinClaw went viral on TikTok, we have at Vertitruss quickly noticed that Chinese manufacturers had become aware of our innovative and successful tool. They started the design and functionality of the PinClaw to copy and create their own versions of it, often of lower quality and at a cheaper price.
We at Vertitruss were thrilled with the global notoriety that the TikTok video brought us. It allowed us to introduce our product to a large audience and make it more accessible to customers around the world. However, it also brought some challenges.
We acted immediately and began taking legal action to protect our patent and trademark rights, but the prospects were not promising and the cost was prohibitive for a small company like us. Despite best efforts, the damage was already done. The PinClaw, for a short time a unique and successful product, was now offered by several manufacturers in the market, causing confusion among customers.
Surprisingly, the Chinese copies increased the popularity of the originals PinClaw even since many customers became aware of the tool through the copies and were looking for the original product. We also saw an increase in sales as customers wanted to make sure they were getting a quality and reliable tool.
Despite and precisely because of the challenges, we develop and improve Vertitruss our products and services continue, and our commitment to quality and customer satisfaction remains unchanged. We adapt to the situation and continue to look for new ways to grow and innovate.
Convince yourself: